Our Story
Stylish, sustainable bags for a colourful life
Herd launched in 2019 to prove that great design can be both a source of joy and a solution to the waste age in which we live. Our mission is to make life easier for #herders - those who carry everyone's hopes and dreams (and their clobber). From the commute and the school run to the shops, the gym, the picnic, the festival, the beach - wherever you are, our bags are designed to be useful and beautiful.
Designed for life
Strong
Made from woven polypropylene (WPP) which is strong and easy to wipe clean – throw anything in it.
Versatile
Long and short cotton handles, so you can carry in your hand or over your shoulder. There's also an internal zip pocket perfect for phones, keys and cards.
Recycled
Our bags are made from recycled plastic water bottles (16 bottles in each bag to be precise). We will also recycle your bag when it eventually needs replacing.
Designed for colour
Our house designs are created by the talented Alenka Gomboc who is based in Sayulita, Mexico. The house style is joyful and vibrant, drawing on inspiration as diverse as the pop art movement of the 1980s to the Federico Fellini films of the 1960s.
Herd also collaborates with other designers, organisations or charities for one-off bag designs.
Designed for less impact
Sustainability is at the heart of our brand and we are delighted and grateful for the progress we have made so far.
We have partnered with Empower, a global plastic exchange initiative. For every bag we sell, 1kg of ocean-bound plastic is cleared up from beaches across Africa and Southeast Asia. Customer can track this activity via a link they are sent in their order confirmation.
By clearing up this plastic before it gets into the sea, it can be recycled, up-cycled or used for energy – and most importantly it doesn't harm marine wildlife.
So far, we have cleared over 6 tonnes of plastic. The money we have invested in this programme is over 5% of our annual profits this year.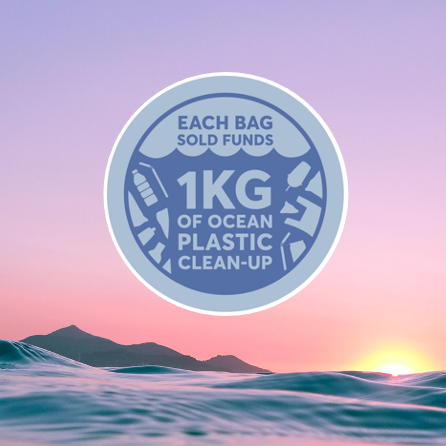 "When I first thought up the idea of Herd I was working in corporate sustainability and was thinking of ways that creative design could help us repurpose waste. I was also a mother to three children who needed heavy duty bags for all the clobber I was constantly carrying, but I wanted designs that were joyful, even if the task wasn't! Herd was my answer, and I hope it might be yours too."
— Nancy, Founder
People in the herd